How to Love Your Neighbor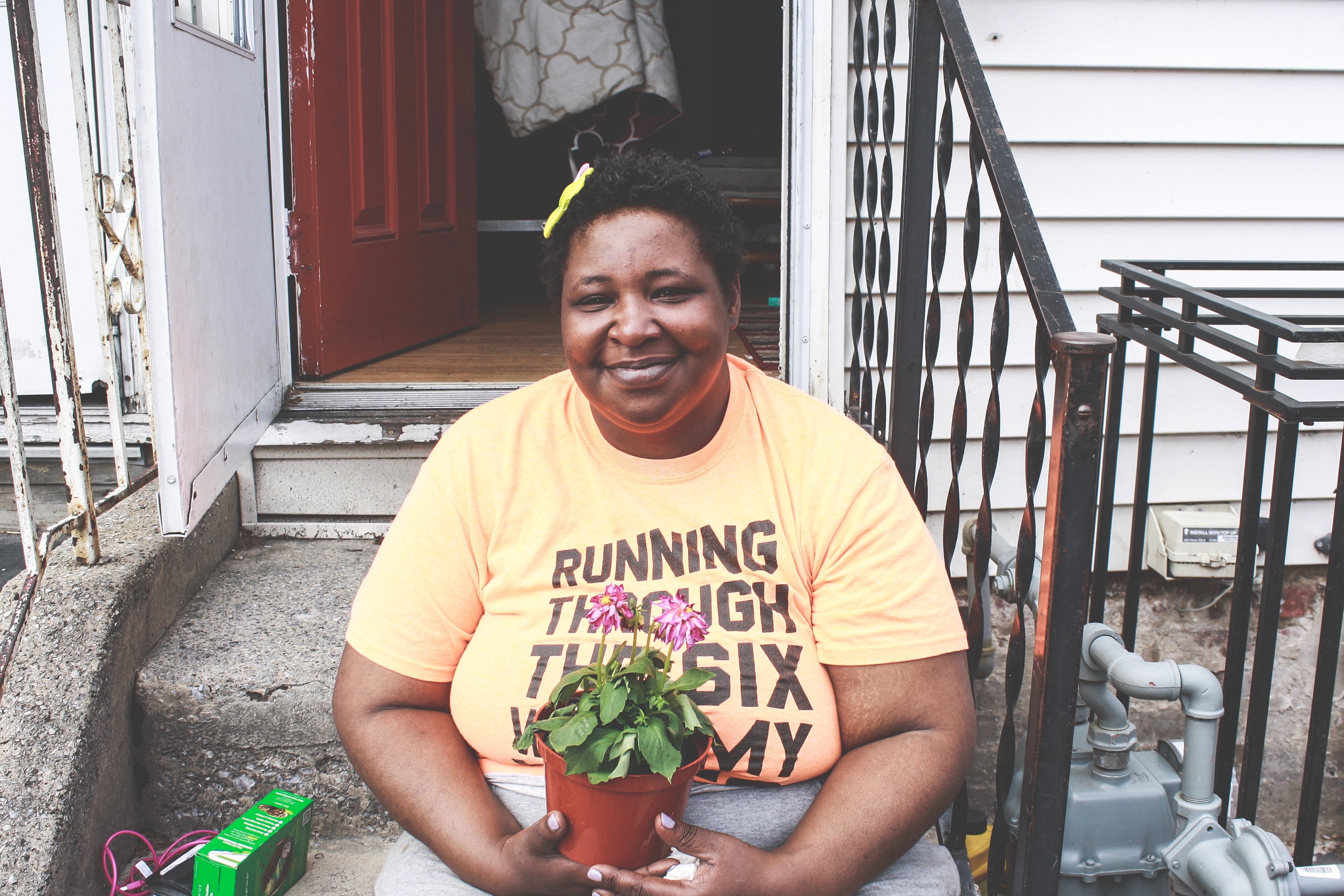 Many of us could easily recite the second greatest commandment: "love your neighbor as yourself." Fewer of us have a quick answer for how we are actually doing that in our daily lives. The problem for many, I think, is knowing where to start. In an age of self-checkouts and earbuds and delivery services, we've been practically indoctrinated to ignore our neighbors. "Live and let live," right? (Too bad that's not the great commandment…)
Don't get me wrong. I love the modern conveniences that allow me and my type A personality to be productive and get stuff done. I love checking things off my to-do lists and earning money and working toward visions that will ultimately make our world a better place. But I've been challenged lately to slow down. There's something powerful about taking a moment to stop and acknowledge the valuable people living beside us, walking the same sidewalks, and breathing the same air we're breathing. Even on our work days at the Mansion, it's easy for me to get tunnel vision and move from project to project feeling accomplished. But ultimately, that's not what we're here for. We're here to love our neighbors. So how can we do that better? This was the question on our minds as Joanna and I walked the streets around the Mansion.
I was little worried people wouldn't want to talk to us. It was a cold day and not many were hanging out outside. I thought, too, people might see our little mission as an inconvenience or annoyance (I'm shaking my head at how many of my own attitudes I tend project onto others.) I was gratefully surprised when—shocker—our neighbors seemed happy to stop and talk with us.
Christina was like a ray of sunshine on that chilly, overcast day. We had met Christina last summer while we were planting flowers outside her house. It was a relief to see her face as we turned the corner. She has a confident, bubbly personality and a warm smile. While seeming a bit shy when we told her about the blog, Christina quickly relaxed when we shared our main question:
What does it look like to love your neighbor?
She took a moment to think, then suddenly remembered. "Oh, I helped, Trinda, here," She nodded in the direction of a nearby house. "She just moved in a couple of months ago. Whenever she needs to go to the doctor's or something like that, I give her a ride before I go myself."
Christina also described a time she helped a new neighbor get settled into her home. She had just moved in and needed help setting up a T.V. Christina drove her to Wal Mart to buy the T.V. and helped her set it up when they got back.
The thing that stuck out to me about Christina's examples is that she inconvenienced herself for the sake of her neighbors. I couldn't help but think of how many times I run through life so fast and so busy that I don't even recognize the people standing right next to me. It was a gut check, and it stuck with me throughout the day.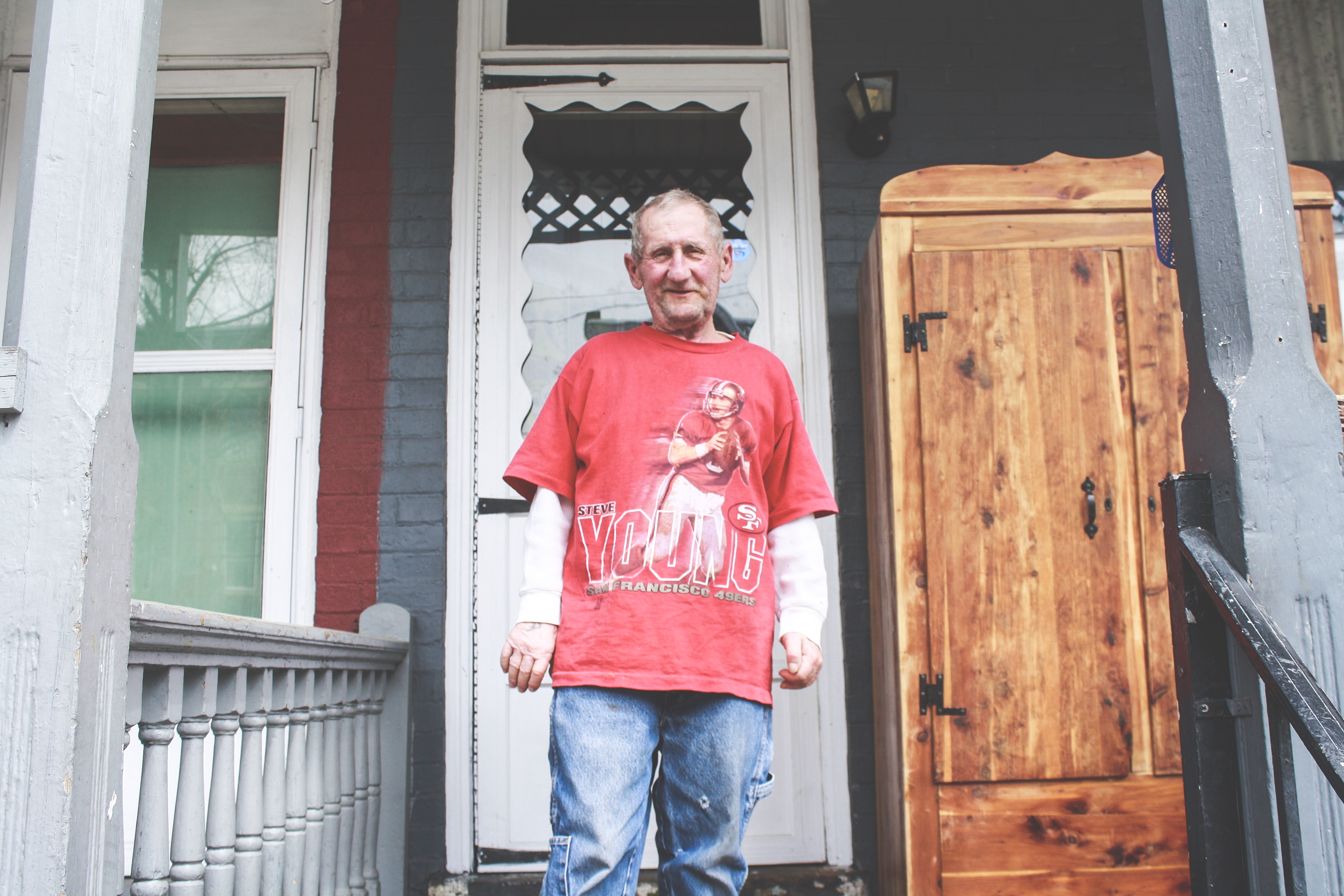 The next person we ran into was a man named Leo. If Christina's words hit me in the gut, Leo's story broke my heart. Leo is in his 70s. He sat on his porch trying to fix an old hunting coat. His son just moved out, taking his grandkids with him, and he wanted to give it to him.
"I live here by myself now. Everybody left. My kids all growed up and left. So I just look around. Come out and sit and look around. See what's going on." He didn't seem bitter but definitely sad. Thankfully, chatting about his neighbors seemed to cheer him up a bit.
"What do you think it looks like for someone to be a good neighbor?" we asked.
"These are good neighbors here," Leo said without hesitation. He pointed to the house next to his. "We look out for each other. It's a good neighborhood."
I asked Leo if there was a time his neighbors went out of their way for him.
"Oh, yeah," he nodded reassuringly. "They always do. And I'd do for them. We take care of each other. That's what neighbors are for."
Leo seemed grateful for the short conversation we had with him. He pulled out a tissue to wipe his eyes as we prayed for him. The whole encounter reminded me of how important people are—how much we need them. Sometimes I forget that the simple act of being present can be the greatest gift you can give someone.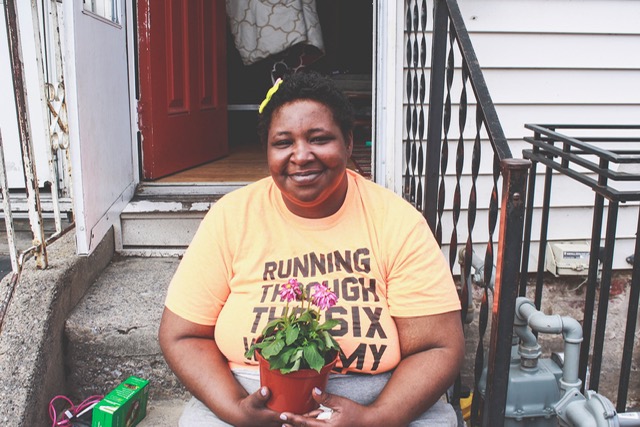 When we finished talking with Leo, we walked down the street to Ms. Gloria's house. We met Gloria about 2 years ago through a mutual friend, Steve Espamer. Gloria brings her grandkids to our block parties, and we see her from time to time as we're out cleaning the streets. She's always willing to talk and to help us keep an eye out for people illegally dumping trash. We thought of her because she's been a good neighbor to us! She was happy to answer our questions.
Gloria described loving your neighbor as being able to talk to them, to communicate, and to have functions together. She's a big fan of the quarterly block parties. She really likes when everyone is in "one accord." That's something she said is very important to her.
Gloria had difficulty thinking of a specific example of someone being a good neighbor, so I asked her about role models instead.
Who is someone in life that has helped you that you would say, "I want to be like that."?
Without missing a beat, Gloria said, "Linda Simkey." She nodded confidently. "She used to work with the Center for Champions" (a mentoring program that meets on Allison Hill).
She also mentioned Steve Espamer, a current board member at Wildheart. "Those are my go-to people," She said. "Those are the positive people who made a difference in my life and are still making a difference." When I asked her what made them so special she said, "They pray with me. You know, like, if I had problems … it's just like my mom and dad."
I could hear Gloria's voice become softer when she spoke of Linda and Steve. It was obvious they've made a big impact in her life. It reminded me yet again how valuable friends and neighbors can be.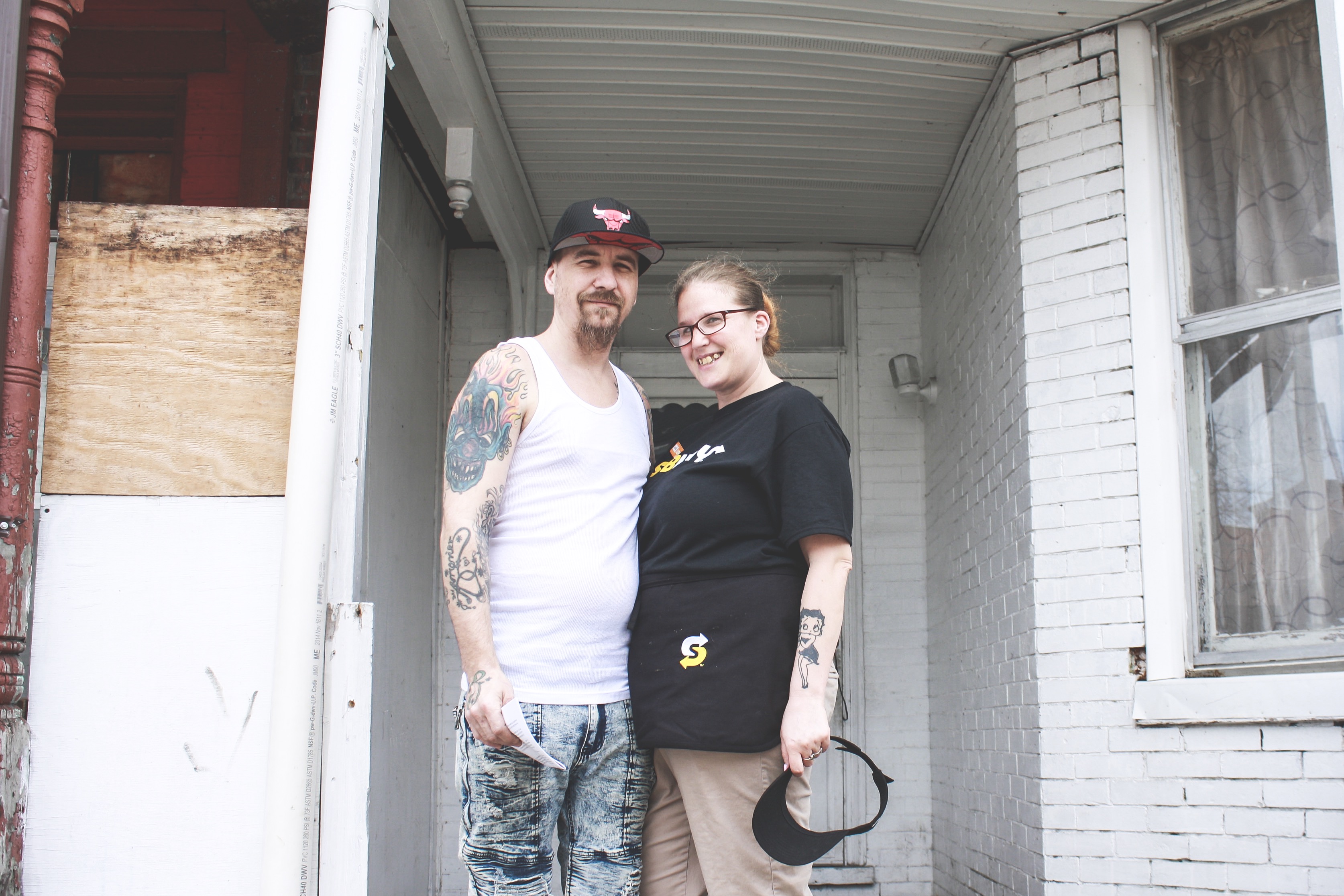 The last person we spoke with was Julio. We've known Julio and his wife, Leslie, for about 4-5 years now. They come to many of our block parties, and we often work on their street. They are both extremely generous to others in need. Not surprisingly, Julio had a lot of great ideas for how to be a good neighbor.
"A good neighbor can … I mean, a lot of things. Help out with the front porch, trash, back yard … if you see them going to the car with their groceries—back and forth to the house—you can offer [to help] … If you see their kids outside doing something they shouldn't do, kindly go over to your neighbor and tell them, 'Your kid's getting in trouble,' or whatever. You know … just try to look out for one another."
Joanna and I were really taken back—and encouraged—when we asked Julio who has been a good neighbor and role model to him.
"I look up to you guys a lot … I've lived here for so long, and I've never seen anybody do what you guys did. Nobody offered to come from any other state to try to help out or anything like that. And, basically, I got tired of seeing it—all the trash laying around."
He explained to us that the trash and the environment of the neighborhood was a big reason why he didn't bring his daughter to come and stay with him and his wife. "All the trash and all the gangs and whatever they got going on here—it's not good for her to be up here … She's in a good neighborhood and school, you know, so I didn't want to change her lifestyle bringing her up here, seeing all these shootings and stuff like that." Julio said that seeing Wildheart cleaning up on the Hill gave him hope that he could soon bring his daughter to stay with them. "Cause it looks different now," he said. "It looks way different."
When we asked Julio about specific ways we could help even more around the neighborhood, he said the playgrounds were the most important to him. He likes when they are kept clean. He likes the gardens, too. "It makes it more livable …  more comfortable."
Julio didn't expect the ministry to do all the work. He said that seeing volunteers with Wildheart inspired him to want to get even more involved. He said he came out a few times with his shovel and rake, and it was good—not just for the neighborhood, but for him. "I'm always inside the house, you know. If I'm not out on my bike, riding around, I'm stuck in the house. And when I saw you guys out cleaning and stuff, I wanted to go outside and help."
The ideas our neighbors gave us may seem so simple, but I was amazed at how many of them are not my norm. I was truly challenged by these conversations. In fact, without connecting the dots, I found myself over the weeks that followed stopping to talk to people I never would have talked to before. I gave them one of my most precious commodities: my time. I slowed down long enough to recognize their humanity and to acknowledge them as precious individuals worth my care and attention. It's so easy, yet so powerful.
God said when He first created mankind that, "it is not good for man to be alone." Being a neighbor isn't just a commandment; it's a necessity. We weren't designed to live in isolation. In fact, pay attention to the people groups in the Bible that God repeatedly tells us to care for: the orphan, the widow, and the sojourner. What do these all have in common? They are people who've lost essential relationships. Your presence could be the very thing that someone has been desperately longing for. Don't neglect your neighbor. Be present. Sometimes it really is as simple as that.
---
There are currently no comments...