A Beautiful Day in the Neighborhood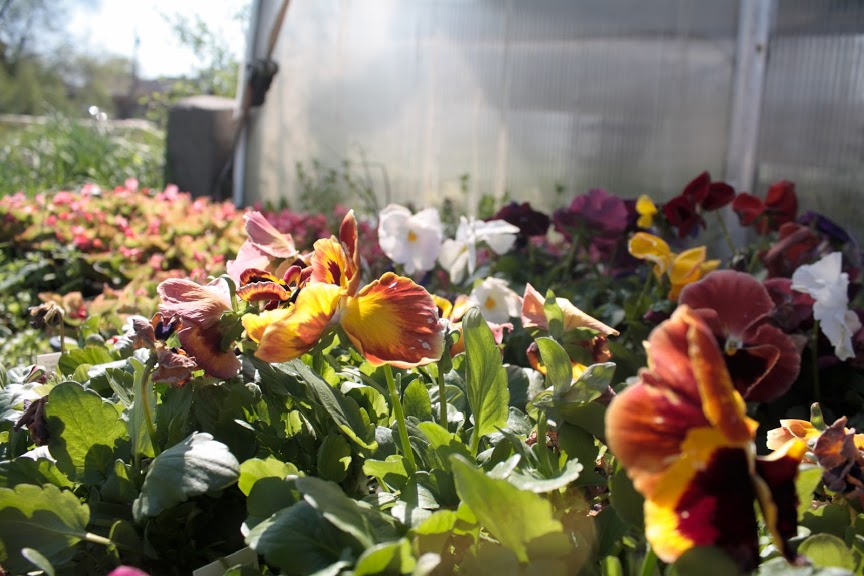 Meet Kymm. Ms. Kymm Myers has lived in the neighborhood much longer than we have. She moved to Allison Hill in 1976. She's seen the good, the bad, the ugly … and the beautiful. In fact, one of Kymm's greatest dreams is to help people realize the potential for beauty that exists on Allison Hill.
"My dream is to bring some color back into the neighborhood," she said.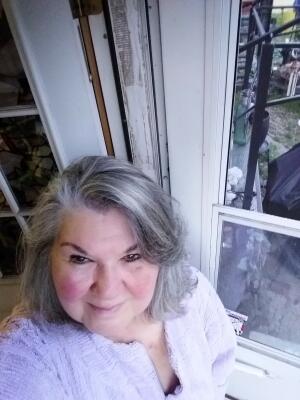 Kymm is an artist. In the late '70s through the '80s, Kymm used the bottom floor of her home as a ceramics shop. She poured her own molds, fired her own kilns, and taught classes. She loved to use her art to help her neighbors. She taught the kids and gave them jobs. Kymm has an especially tender place in her heart for children.
"I used to try to help out the kids in the neighborhood when I could. A couple times I've helped them start their own little gardens and taught them how to garden," she said. Kymm uses every opportunity she gets to teach the kids in her neighborhood about respecting their elders and helping their neighbors.
One story Kymm told us was about a boy named Maurice who, years ago, used to ride his tricycle by her shop and stop by from time to time. "I'd bring him in and show him how to do little ceramics and make sure that he had lunch and everything," she said.
Kymm told us that Maurice's parents were into drugs and he would sometimes lash out against them. "He didn't want to grow up like his parents. He was like, 'I hate them, I hate them.' So I tried to teach him, 'What they're going through is a sickness. You shouldn't hate your parents because of it … you will have the choice to be whatever you want to be. You don't have to be what your family is, but you still have to honor and respect your family and love them.'"
Kymm always found creative ways to teach the children in the neighborhood. One time she realized some kids were pulling the flowers out of her garden. Rather than yell at them or their parents, Kymm decided to confide in them. "You know what?" she said. "Somebody's pulling my flowers, and that's a lot of work." She asked the kids if they'd keep an eye out for whoever was pulling her flowers in exchange for some ice pops. She chuckled at the memory. Apparently it worked. "My flowers didn't get picked any more, and I always gave them ice pops," she said.
The seeds Kymm has planted in children's lives throughout the years have not been wasted. In fact, more recently, she's started to see some of the fruit of her labor.
"About two or three years ago," Kymm said, "I heard this knock on the door, and it was this well-dressed, young black man at my door. I opened the door and I says, 'Yes, can I help you?' And he says, 'Ms. Kymm, I know you don't recognize me, but I'm Maurice.'" Kymm's eyes teared up to recount the story. "'He says, 'I just wanted you to know that I am a lawyer now in Philadelphia.' And he says, 'When I graduated,' he says, 'I stood up front,' and he says, 'I owe this to Ms. Kymm.'"
Talking to Kymm about her own childhood, it's easy to see why she has such compassion for children. Kymm didn't have an easy childhood, but she had people in her life to help her along the way. When she was about six years old and living with her family on Clinton Street in Harrisburg, Kymm suffered from leukemia and wasn't strong enough to go out and play with the other kids. Her mom was a single parent raising her and her siblings, so during that time, a woman named Mickey Short took Kymm under her wing. Mickey taught Kymm practical ways to cope with her pain.
"She taught me how to appreciate just waking up and looking at the sunrise, and—if I was in pain—teaching me to take my mind out of my body … away from [my] pain." Kymm would imagine being able to fly, and that would help her find peace.
To this day, imagination is evident in the way Kymm lives her life. Her yard is full of items that were trashed by neighbors that she has rescued and repurposed for art. In fact, when Joanna and I first approached Kymm, she was screwing together some old pallet boards to create planter boxes for her garden. "Put color back into the neighborhood rather than the trash!" She encouraged us. "If you find trash, take it and make something."
Kymm's yard is like a little garden oasis in the middle of the city. Every item has been uniquely selected—fixed up if necessary—and placed with care. They also tell a bit of the neighborhood's history.
"We used to have a flea market once a year," Kymm recalled. "Everybody—instead of throwing their trash out—we'd put our trash out and sell it for whatever we could get," she laughed. Back then, Kymm hosted neighborhood block parties on her driveway. "Since I had the ceramic shop, I'd hire a D.J. and then we'd get a special permit and we'd block off from Swatara Street to Berry Hill, and all the neighbors in my area would bring a covered dish," she said.
Her neighbors have always been very important to her. "When the garden was just right back there, and … when I'd see any older people or anything walk by, I always gave them a big bag. They'd say, 'Hi, Ms. Kymm,' and I'd say, 'Don't go anywhere! Let me get a bag for you.'" For Kymm, being a good neighbor is all about sharing. "I don't have a lot. My income is very limited. But I'll share anything that I have with anybody."
One of the people who taught Kymm about sharing was a woman named Sophie Romara. Sophie was a Lakota woman. "She's passed now," Kymm explained. "She was like my adopted grandmother … I went out and stayed on the reservation out in South Dakota … for about three months. Sophie taught Kymm a lot while she was out there.
Kymm said that for the first two months she stayed with Sophie, she didn't speak a word to her. "We'd get up in the morning, and we'd get something to eat, and she'd go do her chores and feed her animals and that. And she'd wake me up likes this," she motioned as if to nudge someone, "[as if to] say, 'c'mon,' you know? And I learned to communicate with her without communicating—without verbally talking—for two weeks."
In Sophie, you can see where Kymm adopted some of her gentle teaching techniques. Sophie was a "show, don't tell" kind of teacher, and Kymm learned a lot from her that way. She'd watch her interact with nature and her family. One of the things she most admired about Sophie was that she never showed favoritism. "She didn't treat any of her kids or grandkids or nieces or nephews better than any of the other ones. I don't care if they were a drunk or alcoholic or what. She just loved them all equally." It's obvious that the unconditional love Kymm saw in Sophie made a huge impact in the way she lives her life today.
"God's creation is full of glory and delight and variety and color and richness and humor … evil drags it down and makes a black and white world and tries to scrub everything out." –N.T. Wright
We are so glad for people like Kymm who are intentionally finding and cultivating the color and beauty in God's precious creation (and especially on Allison Hill!) In so many ways, our neighborhood is a more beautiful place because of the contributions Kymm makes. Thank you, Kymm, for sharing your stories with us! You are a wealth of wisdom and a huge inspiration! We are proud to work alongside you and bring beauty back to our neighborhood. More importantly, we are proud to call you neighbor and friend!
---
There are currently no comments...