2021 Summer Project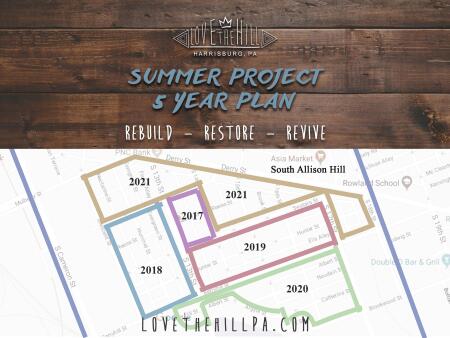 What is the Summer Project?
South Allison Hill is one of Harrisburg's most neglected and deteriorating neighborhoods with over half the population living in poverty. It has been neglected for years and is in dire need of reinvestment of funds, resources and time to create a suitable living environment for the people of Allison Hill. Our Summer Project was birthed out of our desire to serve our residents through preventing & eliminating slums and helping provide safer and sanitary living conditions as well as reduce crime opportunity areas. Every summer an army of hope-filled volunteers flood the streets of our beloved neighborhood, Allison Hill. We do this through removing litter & dump sites, basic landscaping including planter boxes & weed prevention, and minor exterior home repairs.
The Vision for our 2021 Summer Project
(June 6th - August 1st) Includes:
500,000 pounds of trash removed
10 porch repairs
20 houses repainted
290 homes impacted
50 planter boxes
This summer we will be targeting the 12 block area between Berryhill St. and Brookwood St. and 13th and 17th. Our purpose is to restore the beauty and hope of our community. Days will be filled with beautification projects, outreach and other initiatives and every Saturday we will host a big community event! We have a chance to rebuild, restore and revive a key historic neighborhood of Harrisburg - don't miss this amazing opportunity!
Our Efforts During 2019 & 2020 included:
Mobilizing 715 volunteers
Servicing 582 homes
Repairing 13 porches
Removing 800,000 pounds of trash
Installing 130 planter boxes
Boarding up 29 abandoned structures
Our Efforts During 2017 & 2018 included:
Mobilizing 879 volunteers in a 20 block area
Impacting 467 properties
Building 30 custom planter boxes
Removing 840,000 pounds of trash
Boarding up 42 abandoned structures
Partnering with 16 different organizations
Rebuilding 1 porch
Establishing 3 community gardens as part of our lot reclamation efforts
Recovering an abandoned street full of trash and debris